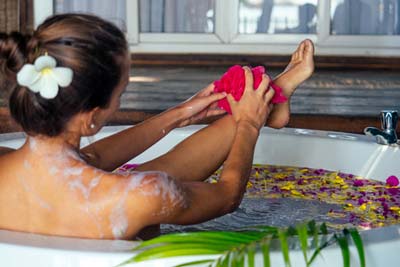 I am happy to say I am a fan of a good soak in the bath. And, it would seem I am not the only one. Emma Watson (Harry Potters wizard friend Hermione Granger) claims to have two or three a day. Mariah Carey enjoys them, and even Kim Kardashian has admitted to indulging regularly. So, I feel I am in good company. However, most of my Australian friends would not agree since, according to them, having a bath is nothing more than washing in your dirt. Well, I suppose there is some truth in that, or at least there used to be since I can remember growing up, most people I knew, including my family, would bath once a week.
Washing and bathing for cleanliness and purification have played an essential element in all cultures and religions. Ancient Egyptians believed in the importance of cleanliness and enjoyed washing and bathing several times a day - Cleopatra is famous for her donkey milk baths. Men and women shaved their heads and preferred to wear wigs and shaved their eyebrows, preferring to paint them instead, and both sexes wore makeup. A clean and well-oiled individual had a much better chance of a safe journey to the afterlife.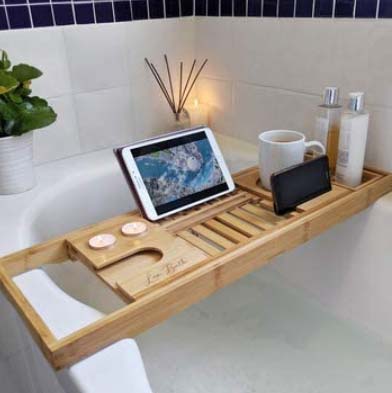 I was eighteen before I had my first shower in a motel room in Perth, Western Australia, at the start of a two-year working holiday (1973). It was refreshing. So, for most of that time, I showered every day and sometimes, due to the excessive heat, two or three times a day. However, during several camping expeditions in the outback, the more memorable experiences were, showering under a waterfall and washing naked in a river - during which I took a deep dive to hide from a local cruise boat full of tourists.
When I returned home from Australia, there was still no shower, so I bathed every day in Radox bubbles, to my family's amusement. We had a plastic tray that used to sit across the tub, which contained bars of Pears and Imperial Leather soaps, pumice stone, nail brush, and where you could hang your flannel.
But I missed having a shower. I eventually purchased a rubber handheld shower unit; you attached to the hot and cold water taps. But, after a while, the rubber stretched and would slip off, causing the spray to go everywhere except on you. I wonder what William Feetham, a stove maker from Ludgate Hill in London, would have made of our modern showers when he patented the first mechanical one in 1767; I would indeed thank him for his excellent idea.
I am also grateful to the American John Michael Kohler, who invented the world's first bathtub in 1883. It was a cast-iron horse trough with four decorative feet covered in an enamel finish. It was not until the 1880s when city sewer systems; central heating; hot and cold running water; indoor plumbing and pipes; flush toilet; stationary bathtubs and sinks combined together to create the modern bathroom.
I live in a two bedroomed bungalow with a small bathroom. However, size does not matter; you can always make it a luxurious experience.
Here are a few tips I humbly suggest
Keep your bathroom clean - luxury cannot be experienced in a dirty, cluttered bathroom.
Allow as much time as you can to fully relax - especially if you will include any of your beauty maintenance routines.
Use a trendy tray across your bath for all your bathing items.
Light candles or infusers.
Listen to music.
Do not have the bathwater too hot it can dry your skin.

There is such a great variety of bubbles, oils, scrubs and dried flowers and I love to try them all.
You can wash your hair and let your conditioner work while you soak.
As tempting as it might be, do not take your phone into the bath.
Have a glass of wine or whatever takes your fancy.
Use the loveliest fluffiest towels afterward. Pat yourself dry instead of rubbing to keep moisture on your skin and finish with a moisturizer – do not forget your feet.
I do not have room in my garden for a herd of donkeys, which I would need to supply enough milk to bathe as Cleopatra did. Or, spend thousands of pounds on beauty products like Kim Kardashian. Instead, I shall be luxuriating in organic full-fat cow's milk from the supermarket (two cups of milk with ½ cup of honey) and a donkey soap bar. Seriously.